Website Improvements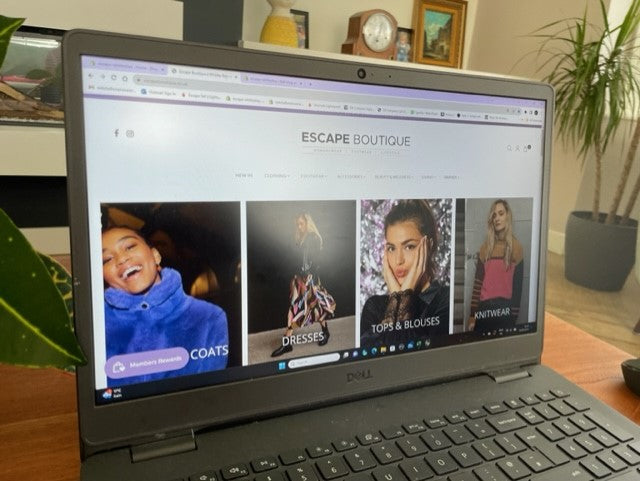 As an independent boutique we pride ourselves on personal service, product knowledge and helping our in store customers whatever their wardrobe needs. Nobody knows our stock better than us and we love pulling together pieces from our seasonal collections and finding that special item or outfit for any given occasion. It's hard to emulate the Escape Boutique instore service online but we have been beavering away behind the scenes to improve our online experience and make it much easier to create a look of your own. We're pretty happy with the results so far!
It can be a daunting and uninspiring experience browsing hundreds of products online by category or brand alone, who wants to see a 100 pairs of trousers or sweaters? I'd rather know what knit goes with a particular skirt, what jacket would look nice over them and which boots to wear with them. With this in mind we've tried to do just that by creating a number of new collections pulling together pieces that work well together, you'll find them within the clothing section of our website. These new collections are
Wardrobe Essentials
,
The Weekend Edit
,
The Evening Edit
,
The Workwear Edit
,
The Denim Shop
,
The Lounge Edit
and
Shop The Window
. It is very much a work in progress as our collections are still arriving thick and fast but they are looking good so far.
Take
Wardrobe Essentials
, this is something we talk to our customers about in store every day and why it was the very first category we created! Every wardrobe should start with a few good essential pieces, they are the building blocks of your entire wardrobe. A good pair of jeans and a great fitting pair of trousers that can take you from day to night are a must, t-shirts in basic colours good knitwear to layer, a great pair of boots that will wear with most things and last! Choose a neutral palette or colours
with
a similar tone to mix and match, making it easier to add to and expand your wardrobe further, throw in a bit of tonal print and some beautiful accessories to liven it up. Get the basics right and you're well on the way to the perfect wardrobe.
We change our windows weekly and feature that weeks deliveries, we like to play around with layering and accessories, clashing colours or prints and just make them a little bit fun.
The Shop The Window
collection will be updated as the window changes making it super easy to find that one piece that caught your eye or full outfit in one place.
---